Osteopath Lausanne
Boris Hueber 

welcomes you to his clinic located in the center of Lausanne city
Who can consult an osteopath ?
Therapeutics massages
In addition to osteopathy, we offer classic massage treatments, lymphatic drainage and plantar reflexology.
Enjoy nature in complete safety by strengthening specific muscles
Home visit
An osteopathic emergency? Your osteopath comes to your place.
We are open and take care of you with all Covid 19 precautions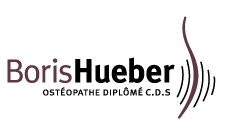 "Our goal: to help you regain your physical autonomy by becoming an actor in your health"
Presentation of our clinic and our vision of osteopathy
We are pleased to welcome you to our warm clinic to take care of your health, and guide you to preserve it. The firm is ideally located in the centre of Lausanne, opposite the prestigious Lausanne Palace. It offers a soothing panorama between the Bel-Air tower and the Cathedral, passing through the Sauvabelin tower.
The Clinic opened its doors in 2007, and since 2009 Boris Hueber has been working at the Cecil Clinic of the Hirslanden Group. This mark of trust is a guarantee of quality for the patient and shows a solid experience in the approach to osteopathy and its integration with the medical profession, whether in the Maternity Hospital or the Emergency Department.
Osteopathy is a holistic manual medicine, in other words it takes into account the person as a whole. We search for the origin of your ailments through a complete anamnesis. Through clinical and osteopathic tests, we seek to understand your body schema as well as possible. This assessment allows us to offer you a service adapted to your needs. In some cases, it is possible that following the assessment we may have to refer you to your doctor or a specialist, or even request an additional examination (X-ray, MRI, etc.) if your problem requires it. Our role as osteopaths is to support you to enable you to acquire a better posture, and thus gain mobility and improved comfort. In our office, we have decided to do 60-minute sessions for the first appointment, and 45 minutes for the follow-up, in order to take the time to listen to you.
We use non-invasive techniques for the patient, and we adapt to each person. We work with people of all ages, from infants to seniors. In addition, each of us has received specific training in perinatal care (follow-up of the pregnant woman and the infant). All sports enthusiasts, we offer a personalized approach to both amateur athletes and the most experienced sportsman.
Our objective is to support you in the long term, guiding you so that you can rely on your own resources and regain physical autonomy.
We look forward to meeting you and sharing a part of your story.
"Osteopathy the health partner, for your continuous wellbeing"